7in1 DSLR Camera Cleaning Kit (Cleaning Pen + Air Blower + Cleaning Tissue Paper + Lens Cleaning Cloth + Spray Bottle + Dry wipes + Brush)
&Frete GRÁTIS nos países elegíveis
Marca:

K&F Concept

Compre K&F Concept 7in1 dslr camera cleaning kit (cleaning pen + air blower + cleaning tissue paper + lens cleaning cloth + spray bottle + dry wipes + brush) online, frete grátis e garantia de devolução de 30 dias.

SKU0861

Em stock:

Existente

11.99

https://pt.kentfaith.com/SKU0861_7in1-dslr-camera-cleaning-kit-cleaning-pen-air-blower-cleaning-tissue-paper-lens-cleaning-cloth-spray-bottle-dry-wipes-brush
Compre mais de 2 itens e receba

10% de desconto

!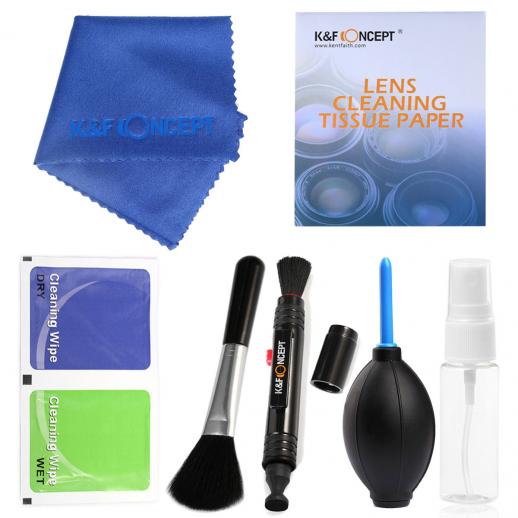 7in1 DSLR Camera Cleaning Kit (Cleaning Pen + Air Blower + Cleaning Tissue Paper + Lens Cleaning Cloth + Spray Bottle + Dry wipes + Brush)
Jellemzők
• O kit de limpeza é composto por ferramentas e materiais cuidadosamente selecionados para limpar sua câmera e qualquer outra ótica delicada de forma segura e eficaz.
• Profissional limpeza do sensor da câmera, lente, tela e corpo da câmera. Também pode limpar o celular, iPad.
• ATENÇÃO: Quando o frasco de spray ficar vazio, encha-o com água ou com sua solução de limpeza favorita.
• Incluído no Pacote: Caneta de limpeza + Ventilador de ar + Limpeza de lentes Lenço de papel + Pano de limpeza para lentes de microfibra + Frasco de spray + Toalhetes secos + Pincel
• K & F Concept fabricado por uma equipe profissional, de volta com 12 meses de garantia do fabricante, 100% de satisfação garantida.
Frequently Bought Together
Size:Style 2
Your purchase includes

•1 - 50 Sheets Camera Cleaning Tissue

•1 - Lens Cleaning Pen

•1 - Air Blower Cleaner

•1 - Cleaning Brush

•1 - Empty Plastic Spray Bottle

•1 - Cleaning Cloth

•1 - Dry Wipes


Lens Accessory Cleaning Kit Function

Lens Cleaning Pen

•This Professional Lens Cleaning Pen is a small, lightweight tool specifically designed for camera lenses and other optical items.

•The soft brush retracts into the pen body to stay clean. Use the brush to dust off any particles and debris.

•On the other end of the pen is a double sided soft pad with a non-liquid cleaning agent to remove fingerprints and more serious grime, all without damaging the anti-reflection coating on your lens.

Air Blower

•This professional air blower directs a powerful stream of air to blow away dirt specks and dust from lenses, DSLR sensors, and camera mirrors.




Escova de Limpeza

• Esta escova de limpeza profissional é perfeita para limpar lentes de câmeras, filtros, lentes binoculares, oculares e outros itens ópticos.





50 folhas Lenço de limpeza da câmera

• Lenço de papel premium sem fiapos, feito especialmente para a limpeza de lentes, filtros e telas de cristal líquido. Seguro para lentes e filtros multirrevestidos.


Pano de limpeza

• Evita arranhões ao remover poeira na tela. Seguro para todas as superfícies e lentes.

• Durável, reutilizável e pode durar anos

Must have cleaning kit for photography, handy to use around the home too!
This kit contains a cleaning pen (double ended) , an air blower, some tissue paper in a small book, a cleaning cloth, some wipes, a brush and a spray bottle.I bought this mainly for the air blower and cleaning pen.The air blower fits well in your hand and only needs a small squeeze for a powerful gust of air to come out. This will shift any dust without physically touching anything. (The safest way)For smears or finger print removal the cleaning pen is good, a retractable brush at one end and a cleaning pad the other.There is a wet and a dry wipe which I will never probably use as is with the tissue book which contains around 50 tissues.The spray bottle is empty as per description for your lens cleaning solution.All in all a good wee kit with a few extras I might not use. Very pleased with the items I will use.[...]. Thankyou for reading my review.
Quality combination cleaning kit for home or on-the-go use.
The bristles on the brush and lens pen brush are amazingly soft. I could very quickly dust off dirt and lint off my DSLR and video camera lenses without fear of marking them. This kit is comprehensive and includes cleaning accessories for at-home and on-the-go/outdoor use. It comes with a customer satisfaction card, a spray bottle/atomiser (cleaning solution/fluid not included), a lens pen with cleaning pad and retractable soft bristle brush, a micro fibre cleaning cloth, large pump dust blower, a booklet of lens cleaning tissue paper.Here's my YouTube video (https://youtu.be/HzpQE3kOGi4) unboxing, closeup look and test of the 7 in 1 lens cleaning kit.
A complete cleaning kit
I am very pleased with the cleaning kit it contains everything I need to keep my camera clean and in good condition.
Good value camera cleaning kit.
Good value and does what it claims.
Fine, but lacking some items I would have liked to have.
I wish I'd read the full description before buying. Would have liked some lens fluid.
K&F Concept 7 in 1 Lens Cleaning Kit
These images belong to K&F Concept end users.