TM2515T 67"/170cm Tripé de alumínio para câmera Tripé de viagem para serviços pesados com monopé portátil e bolsa de transporte de 22 libras
&Frete GRÁTIS nos países elegíveis
Marca:

K&F Concept

Compre K&F Concept tm2515t 67"/170cm tripé de alumínio para câmera tripé de viagem para serviços pesados com monopé portátil e bolsa de transporte de 22 libras online, frete grátis e garantia de devolução de 30 dias.

KF09.085

Modelo:

KF09.085

95.99

https://pt.kentfaith.com/KF09.085_kf-concept-tm2515t-tripé-de-câmera-profissional-de-60-polegadas-tripés-de-alumínio-horizontais-monopé-portátil-com-cabeça-de-esfera-de-360-​​graus-placa-de-liberação-rápida-para-canon-nikon-sony-câmeras-dslr
Características
• A coluna central pode ser tombada em 90º e então gira em 360º, conforme mostram as imagens, um recurso extremamente versátl que amplia as suas possibilidades criativas!
• Construído em liga de alumínio de 25 mm de diâmetro, a capacidade de carga pode chegar a 10 kg. Segurança e estabilidade para o seu equipamento
• Os 4 ajustes de altura das pernas promovem 5 opções de altura, de 56 a 170cm. O peso total deste tripé, com a cabeça do tipo ballhead é de 1,6kg. Suas pernas podem ser dobradas em 180º para transporte. Acompanha bolsa.
• A cabeça ballhead esférica pode ser girada em 360 graus, ajudando a expandir o alcance da atividade da câmera ao fotografar em panorâmica. (O nível de bolha ajuda a avaliar o nível e a composição precisa)
• Pode ser transformado em monopé, para tornar sua fotografia mais dinâmica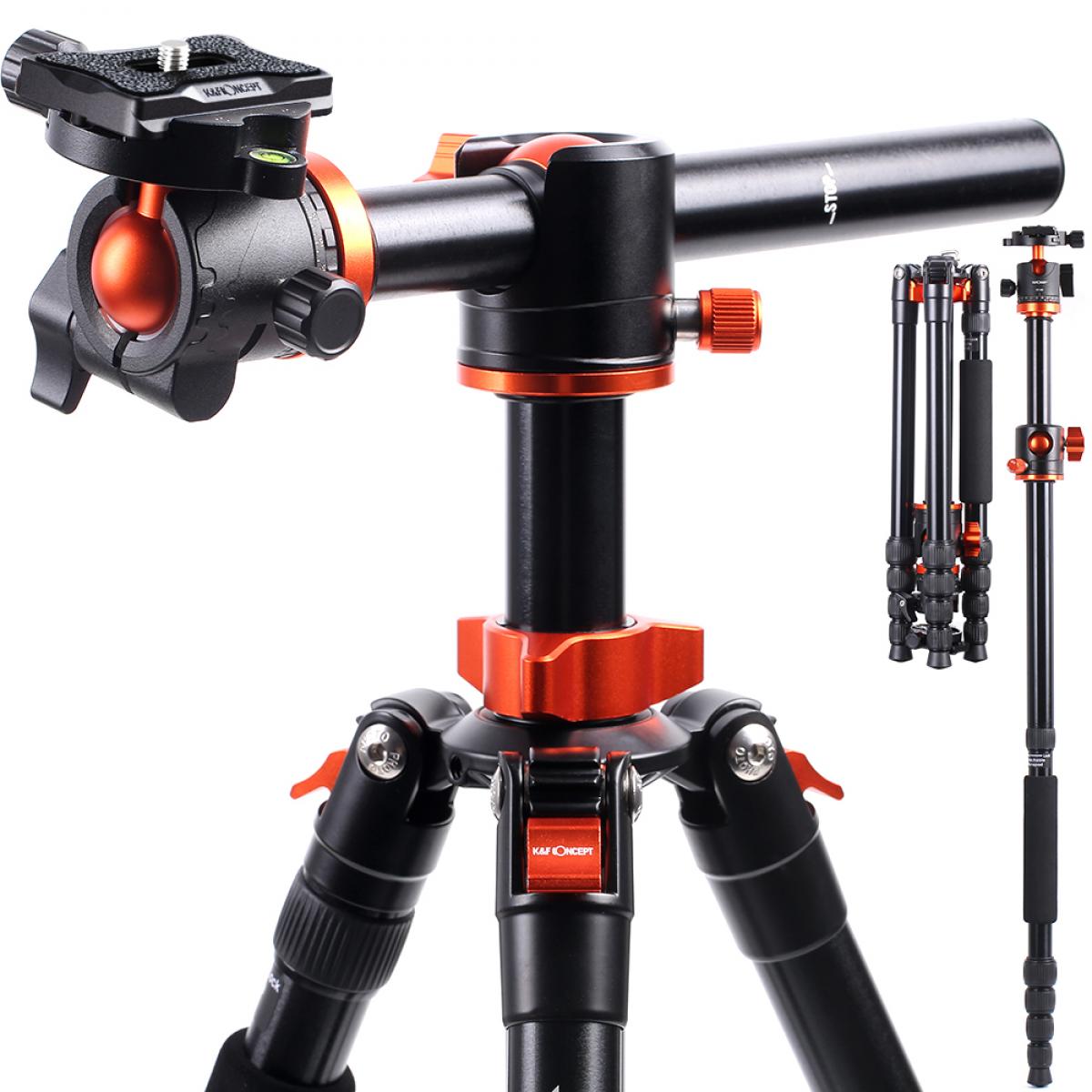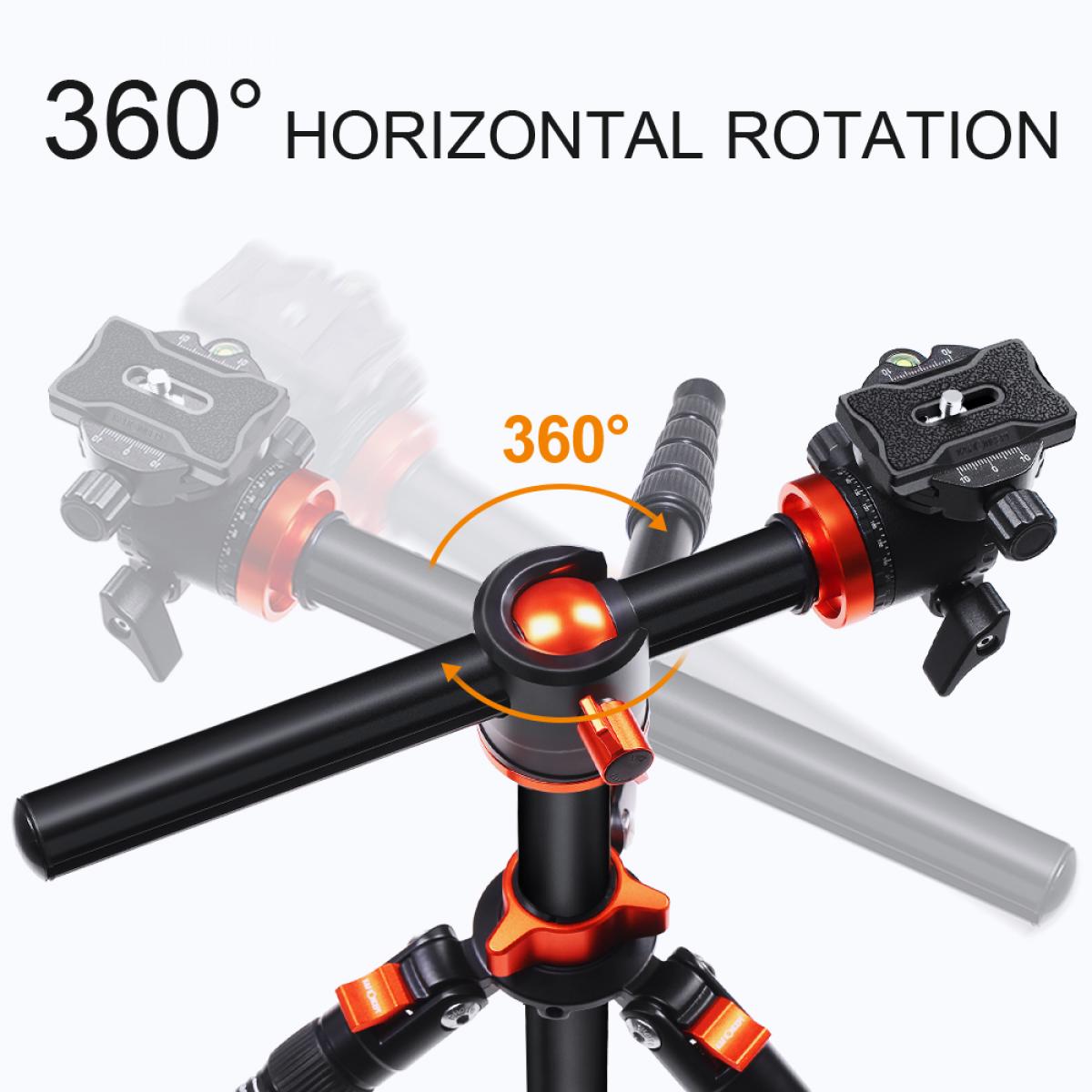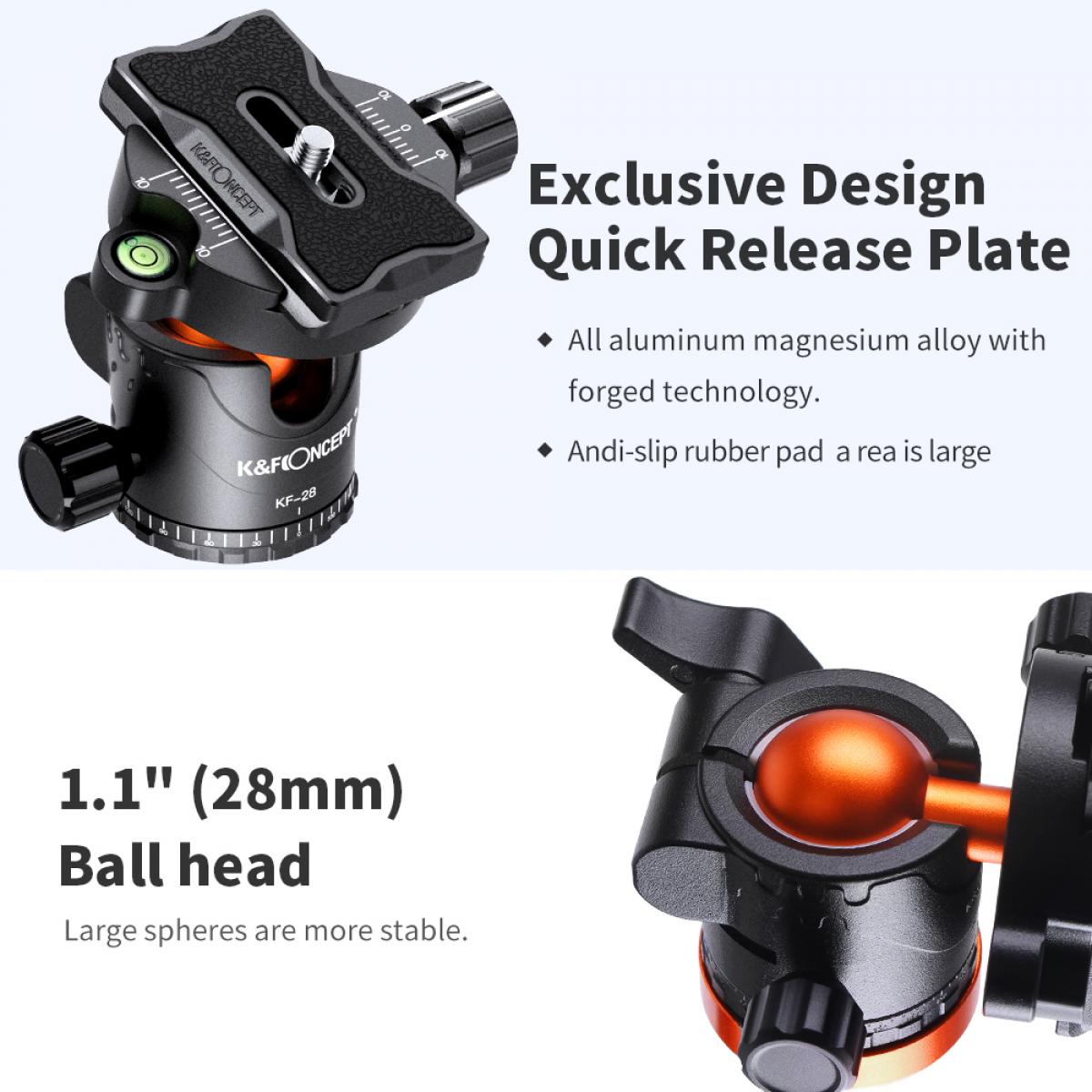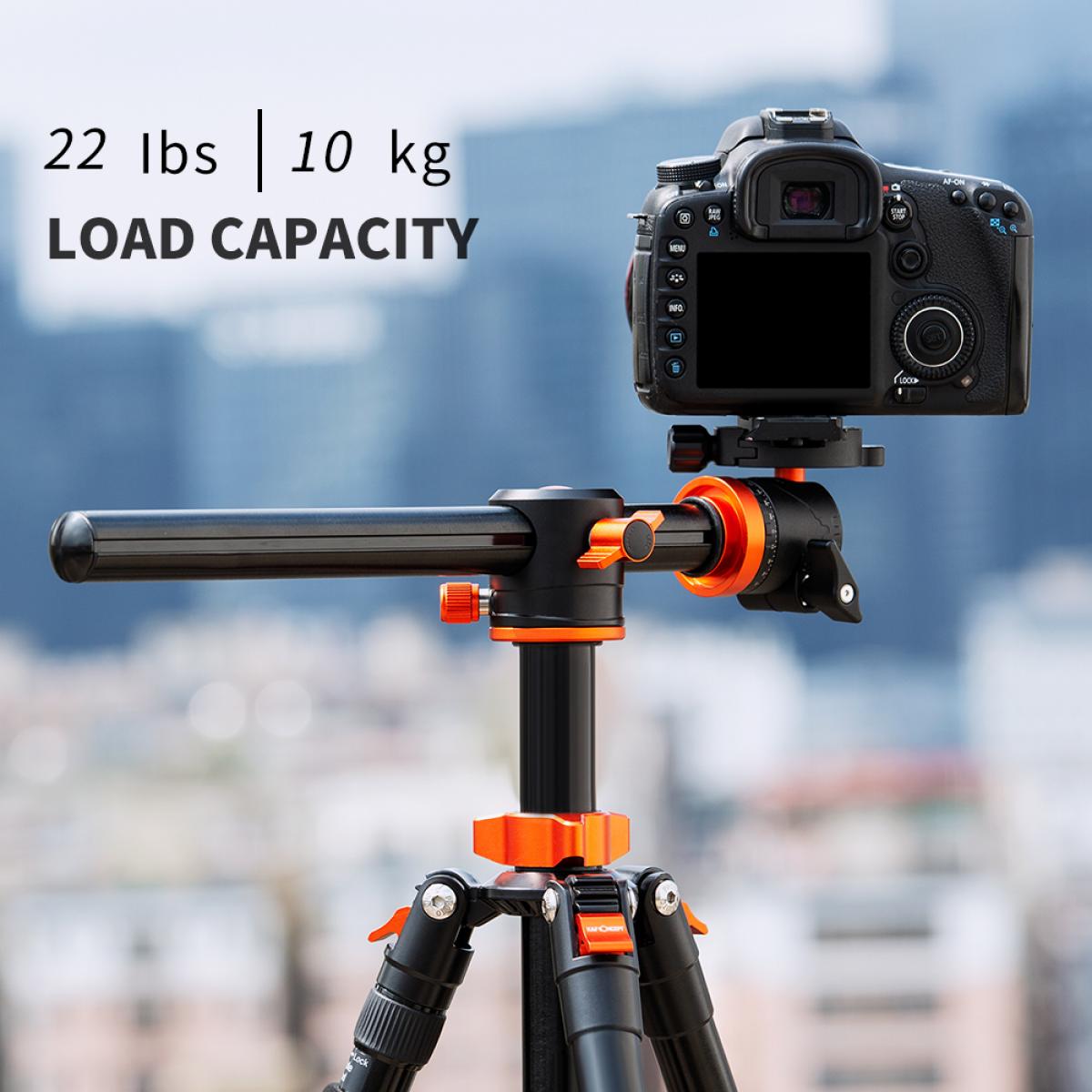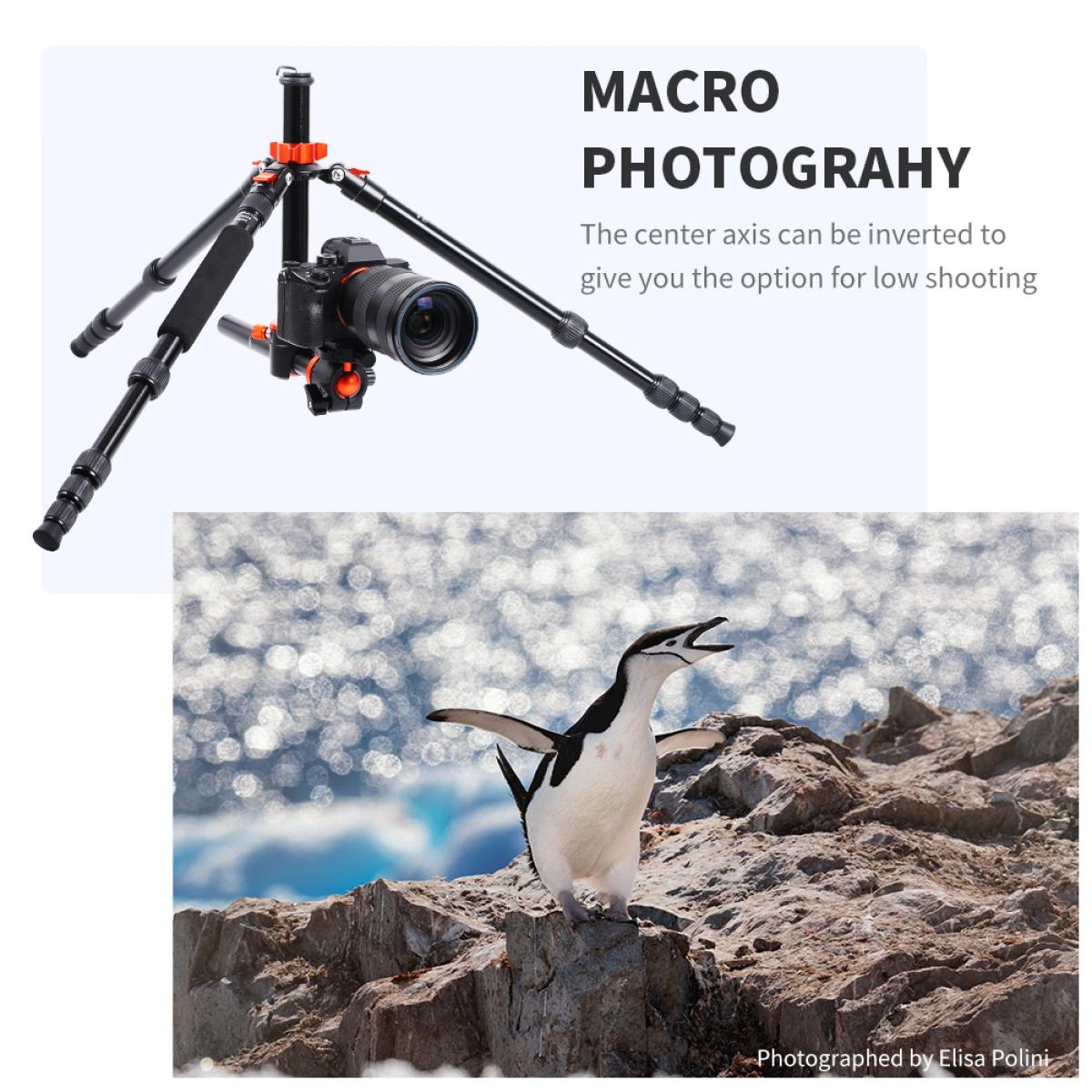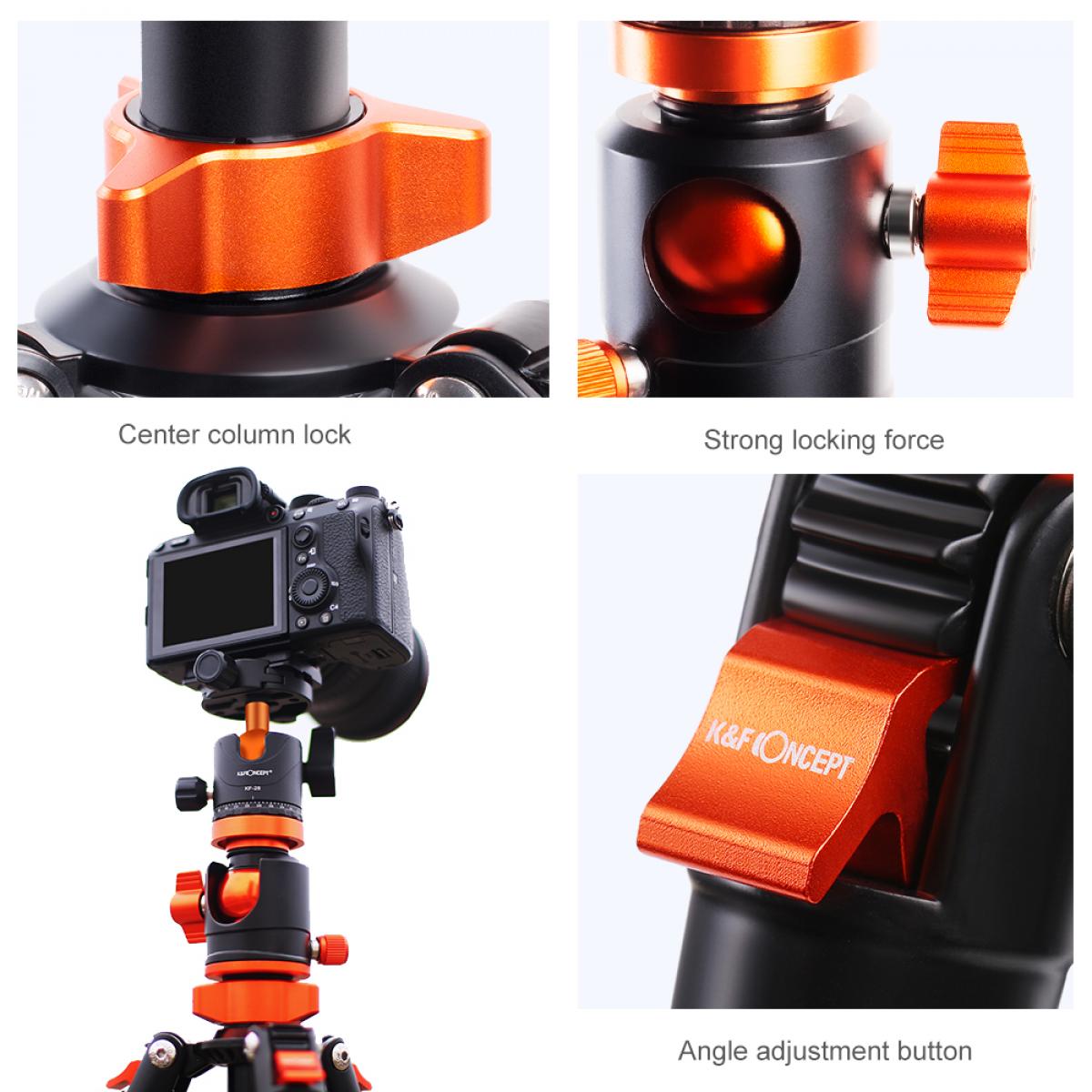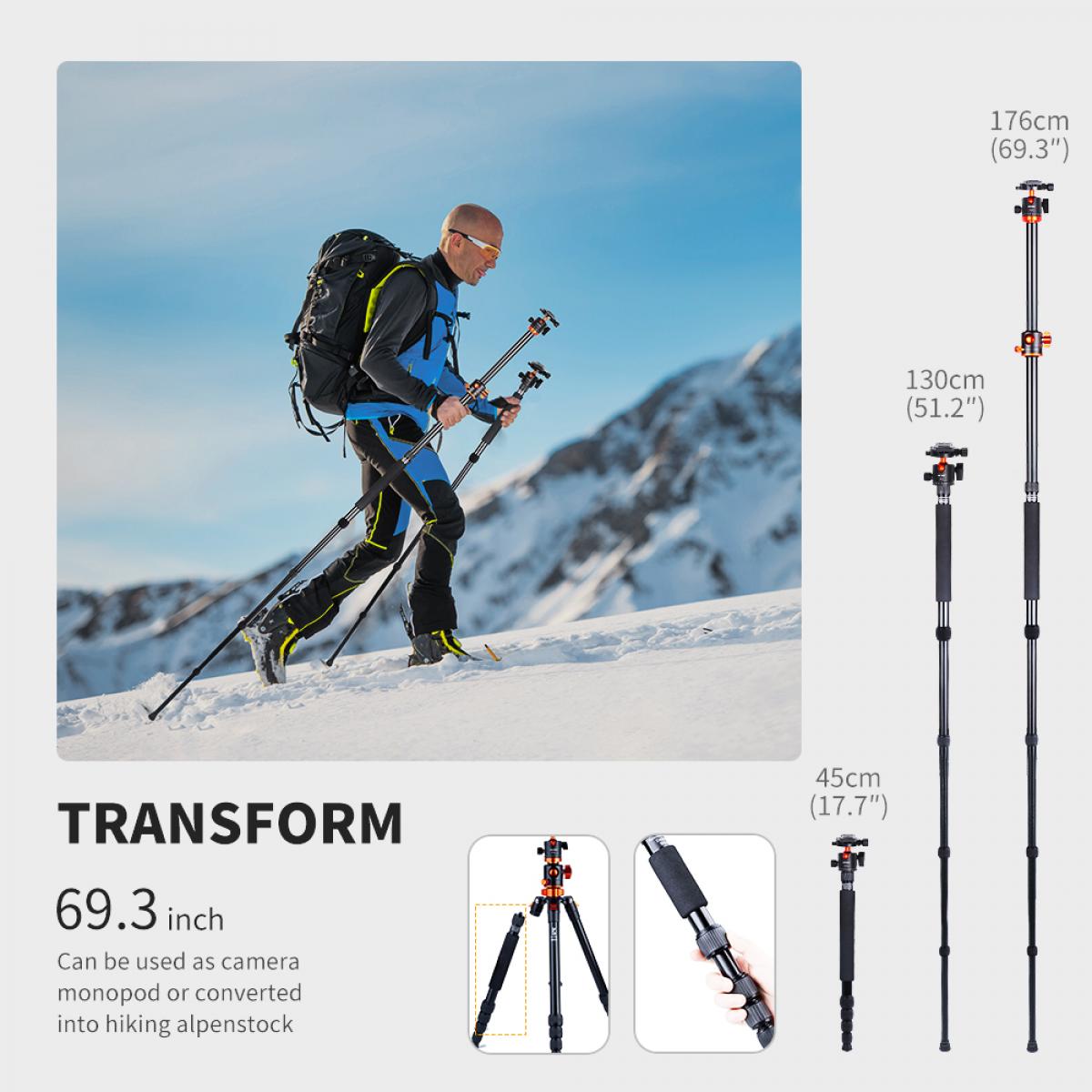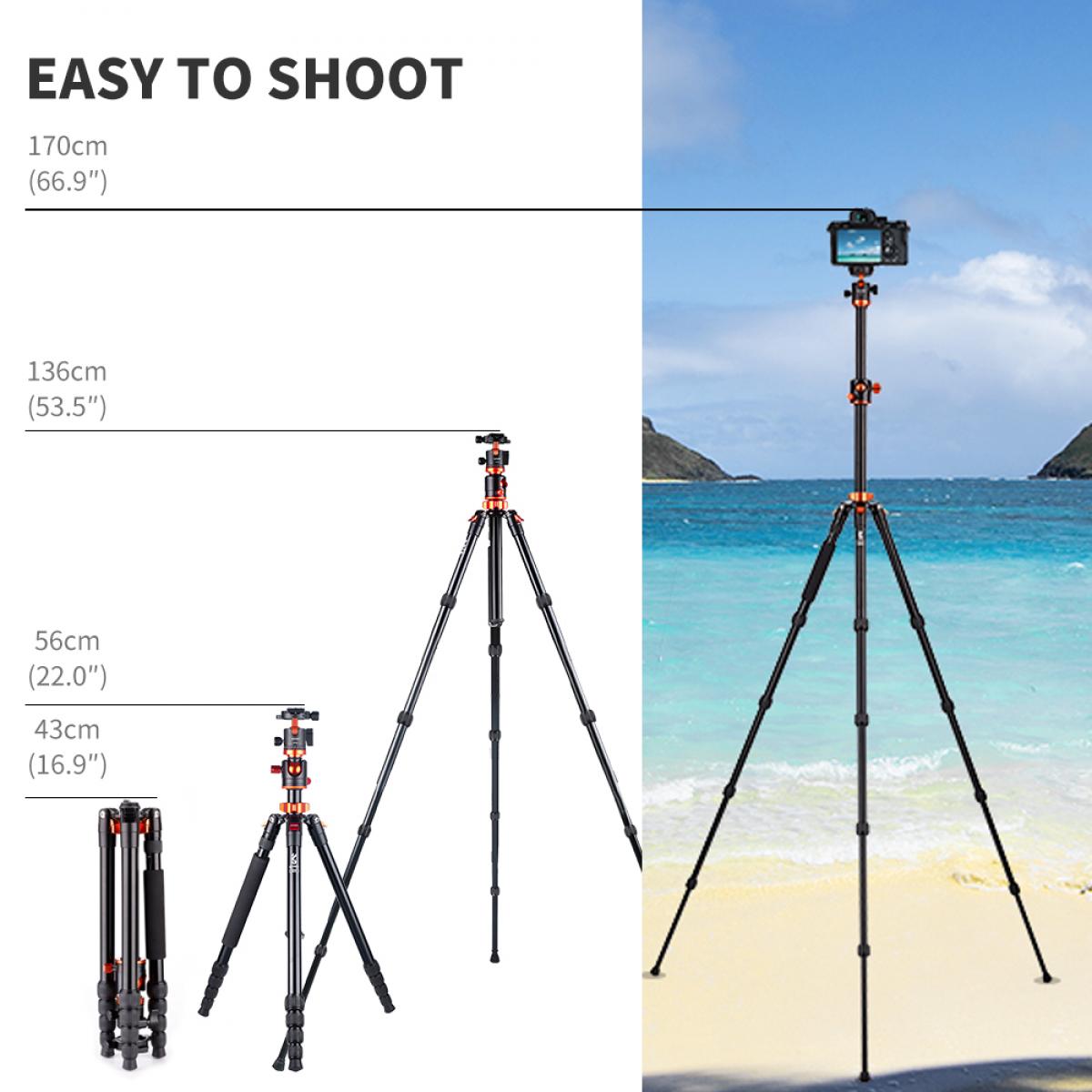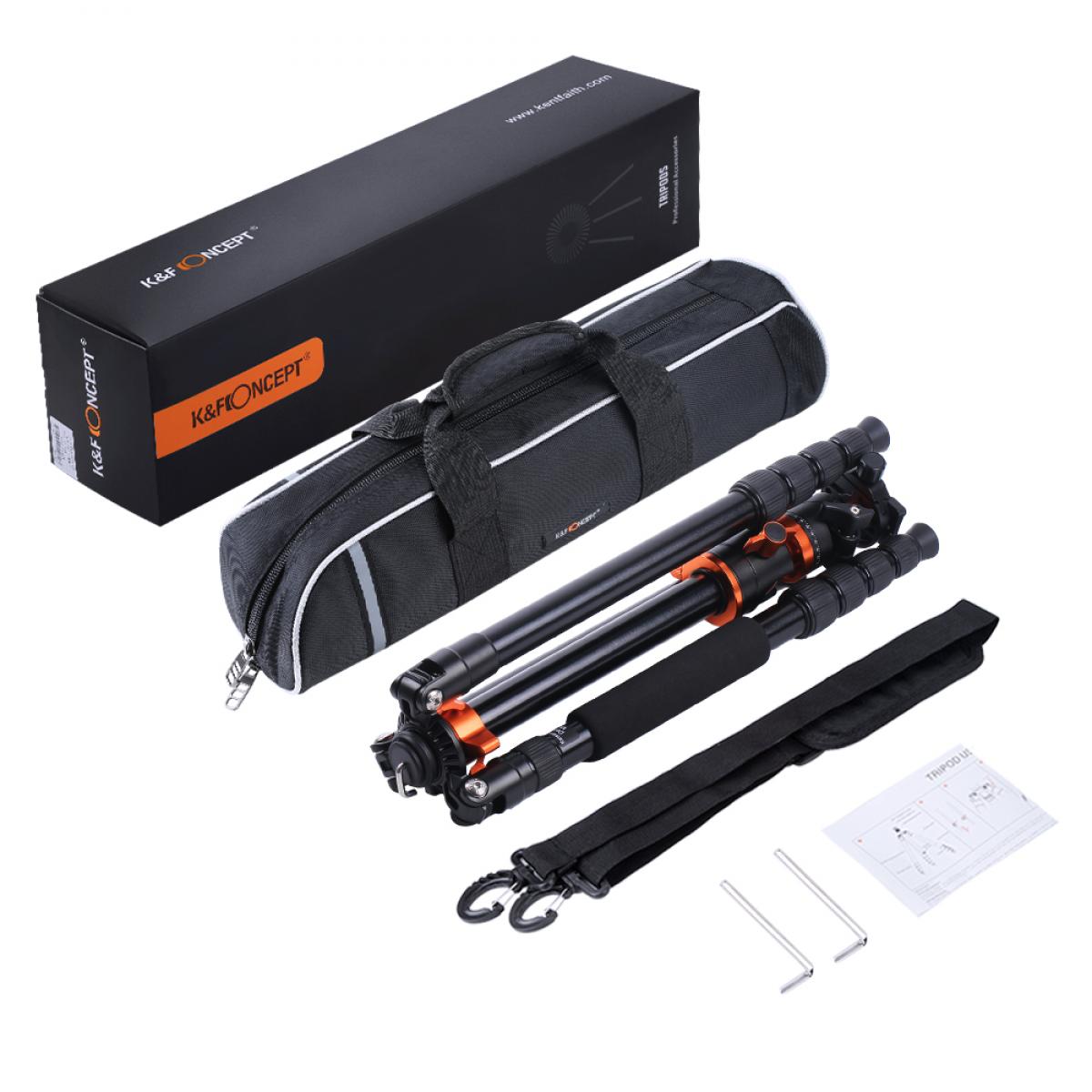 Amazing quality, Versatile and Affordable
What impresses immediately in thist K&F Concept 60" Tripod is the quality and the attention to detail, beginning in the sturdy carry bag. The 39 cm tripod can open up to 154 cm. You can use the tripod in countless situations, being very versatile for shooting night shots, taking product shots, macro shots at the ground level, and even using for shooting videos. The tripod is sturdy, tight, but if is very windy it has a stand in the center to add some weight. The head have a plate with easy grip screw, is also very versatile and sturdy, making it easy to level the horizon of the camera without moving its paws, especially usefull in video shooting. Note the excellent rubber paws, non-slip and narrow to achieve stability even on dirt terrain.The set have a different short central axis that is easy to change in case you don't need to use the big one that comes assembled.When i need to put my video camera on tripod, as i use a different plate to use in a gimbal, i put a quick release plate as i show in the picture.Great value for money. An excellent tripod especially for travel but also for everyday use.
2019/07/31 00:00:00
UPDATE My 4th K&F product
Review uodate!Have this amazing multifunctional tripod for a couple of months and have to admit its very very good! This company had such a great idea of creating such a helpful device! There is no change of quality since I bought this item, works perfectly after 5!months.Really happy with my choice!Hello guys!This is my 4th K&F product, i am in love with this company! So far their products proved me that they are good quality.This tripod in particular is very light, easy to use and STEADY!The reason I bought it is for its transverse feature, I shoot OVERHEAD food videos and its really helpful! Check the pictures. Besides this why to get a monopod when you have K&F? It has rubber grip, easy to mount, very light! I was checking online for similar products with the same features, well at least double price. Think about this.What i like the most about this product? Well, the rotation screws, just simply to use and really functional.I think you can place it anywhere because you can modify the postion of the legs this is why i manage to fit it on the table i am using to film. What you see in the pictures is not actually what I do, I am waiting for my wife to come back from the market with goodies and to start filming. Sorry that I didnt put pictures of the process but its the same thing. I also take pictures of interior, well, used it for a short session like for 30 min and im happy with it, as you can see in the last picture, its amazing how small it can be.Next K&F product I am going to get........a backpack!!!If my review helped you in any way, could you please click on the 'helpful' button below? Thank you
2018/10/28 00:00:00
Fits everywhere and perfect for overhead shots.
Thanks to my friends on youtube, I got recommendation for tripod from K&F. Right after I got it, I had to test it and now I'm using it 5-8 hours every day where I see it amazing. Most important to me is extended horizontal stick, where I can use it for ground shots or shots above certain product. And how small it is when it's assembled, fits everywhere!Now after I tried tripod, I'm sure I will test more from K&F!
2019/03/06 00:00:00
Extremely Versatile
I have been very please with this lightweight travel tripod. It is extremely versatile and can be used in a range of configurations as shown in the attached photos. The build quality is very good, each of the legs has a latch that locks into place when extended. One of the legs is fully removable and can be used as a monopod. The tripod head has a fluid motion which is excellent for videography. Very pleased.
2019/06/16 00:00:00
Feature Packed, Compact Beast!
This tripod is a beast! Whilst it may not have the name "Manfrotto" or "3 Legged Thing" all over it, it is more than capable for it's price point!Having switched to this from a similarly priced Manfrotto, albeit a much smaller tripod I am initially surprised with the similarly in quality.Whilst the Manfrotto feels ever so slightly more refined, the K&F blows it out the park with height, versatility and ease of use!I always found the Manfrotto locking mechanisms very small, fidgety and likely to give me small blisters from repeated adjustment. Whereas the K&F model has comfortably sized levers/screws.The ability to dettach one leg and use it as a monopod is an excellent addition and the additional grip on this leg is nicely positioned and very comfortable.The ability to move the main central point to a over the top arm for top down/lay flat is amazing! This creates much more potential, and having all this in ONE tripod is a bonus.Overall this tripod feels very well built and feels like it will stand the test of time!There are only three cons I can find!- The included bag is not the greatest of materials and the added shoulder strap has plastic vs metal clips. However if your dedicated camera bag has space for a tripod this isn't an issue.- The twist locks on each leg are plastic, however they do feel very strong and not flimsy at all. Being used to aluminium locks on the Manfrotto tripod I noticed this immediately.- The springs that hold ratchet locks on each leg tight are a little flimsy, again being used to a different mechanism on the Manfrotto this bares no effect on quality and durability. If anything they are actually easier to release as the spring isn't extremely stiff!Who would I recommend this to?Anyone! This tripod is capable of meeting the needs of all photographers at all levels in my opinion! Whilst it may not be as rugged as some higher end brands, the fact remains that it is of very high quality and packed full of features. 10/10 for me.
2020/10/11 00:00:00
These images belong to K&F Concept end users.
Tripod General
Capacidade de carga
10kg/22.05lbs
Altura Máxima de Trabalho
1700mm/67"
Altura máxima sem coluna central
1360mm/53.5"
Altura Mínima de Trabalho
560mm/22"
Dobra Comprimento
430mm/17"
Peso
1690g/3.7lbs
Materiais
Magnesium aluminum alloy
Cabeça de bola
Ball Head
Cor
Orange/Black
Nível de bolha
Tripod Legs
Leg tipo de bloqueio
Twist Lock
Posições das pernas
3
Extensão de perna independente
Seções de perna
5
Diâmetro da perna
13-25mm/0.51-0.98"
Características dos pés
Tripod Center Column
Recursos da coluna central
Transverse Center Column, Center Column Inversion
Seções da coluna central
2